Enriching Your Faith Conference
Enriching Your Faith Conference
Saturday, February 10, 2018

Important: This event has already occurred.

9:00AM - 2:00PM
FBC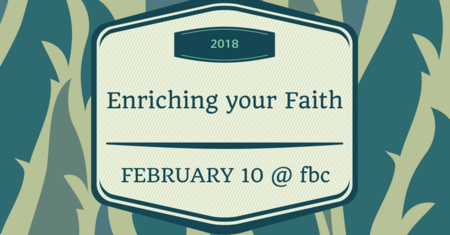 Our 2nd Annual Enriching Your Faith Conference
Guest Speakers:
Steve West, pastor of Crestwick Baptist Church in Guelph, Ethics and the Bible
Kirk Wellum, Principal at Toronto Baptist Seminary, True Spirituality in an Age of Counterfeits
Michael Haykin of Southern Baptist Seminary, C.H. Spurgeon and the Bible
Stephen Westerholm, retired, McMaster University, Justification by Faith in Paul's Day and Ours
No cost. Lunch included. Book Table.
All are welcome to come for this time of study in God's Word.
To RSVP email [email protected]
Return to Events
---